Powder Coating is much like painting with conventional wet paint, but it provides a quality finish at a lower cost. It also has a less safe-ty issues. Powder coating is similar to wet paint finishing but has a few differences.
Some of the differences include:
· Preparation of the surface to be coated
· Application of the coating material
· Heated curing of the applied coating material
Powder coating is also a type of coating that is applied as a free-flowing, dry powder. The main difference between a conventional liquid paint and a powder coating is that powder coating does not require a solvent to keep binder and filler parts in a liquid suspension form.
The coating is typically applied electrostatically and is then cured under heat to allow it to flow and form a "skin". The powder may be at thermoplastic or a thermoset polymer. It is usually used to create a hard finish that is tougher than conventional paint.
Powder coating is mainly used for coating of metals, such as household appliances, aluminum extrusions, and automobile and bicycle parts.
Ceramic coating offers high heat ceramic coatings. These coatings have excellent thermal barrier that reduces radiated heat.
Some of the benefits include:
· Reduced underhood temperatures

· Accelerated exhaust gas velocity
· Longer life expectancy for the entire exhaust system
· Resistance to chemicals and corrosion

Ceramic coatings are available in a variety of colors. Of these, C-7300 Black Velvet is the most popular due to its satin finish (25 gloss units at 60 degrees) and deep jet black color. C-7300 Black Velvet is most commonly used on headers and exhaust components for OEM and aftermarket motorcycles and passenger vehicles.
Sandblasting is a general term used to describe the act of propelling very fine bits of material at high-velocity to clean or etch a surface.
Abrasive blasting is forcibly propelling a stream of abrasive material against a surface under high pressure to smooth a rough surface, roughen a smooth surface, shape a surface, or remove surface contaminants.
A sandblasting setup usually consists of three different parts: the abrasive itself, an air compressor, and a blaster nozzle. For etching and small object cleaning, a workstation to hold the martial is also needed, as is some sort of collector to gather up excess dust.
ABOUT

Protec Powder Coating, LLC has been in business since 2005. We are located in the Jacksonville, Florida area.
---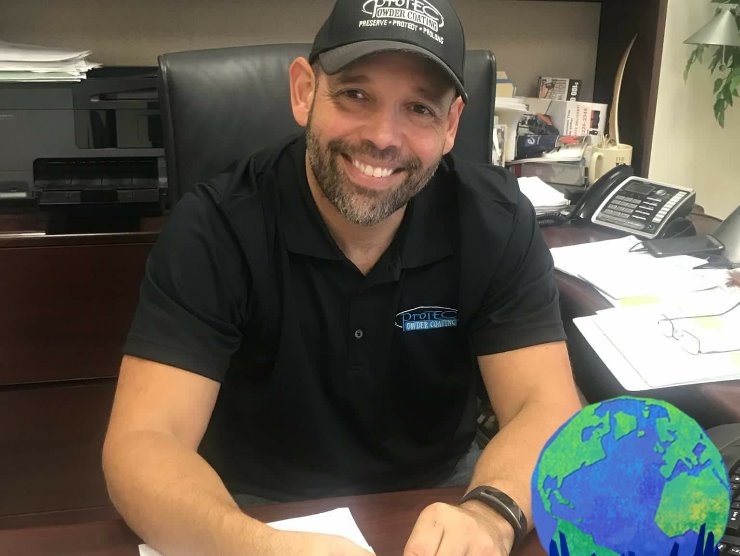 We offer a variety of different services to suit all your coating needs.
HERE IS A LIST OF SOME OF THE SERVICES WE PROVIDE
POWDER COATING - CERAMIC COATING - SAND BLASTING - PROTECTIVE COATINGS
"Pro-Tec Powder Coating does great work at fair prices."
"Very good quality work, and great customer service!! One of the best around!!"
"Amazing job by ProTec on my Harley parts. Final product blew me away it looks amazing!! Will def be my go to spot for future work!!"
"Could not be happier. I needed to change the color of the doors on some steel cabinets for a client. Frank came out in a timely manner and gave us a quote. The work was done on time, at the price quoted, and the finished product was fantastic.
Pro-Tec helped Garage Living of Jacksonville exceed our clients expectations. Thanks Pro-Tec!"
"Frank is amazing to work with! Looking forward to sending all of my work to them and referring them to anyone who has the need for an amazing powder coating company!"

Please submit your information and request below. If you would like to send a picture of your item(s) for a quote, please email us directly at protecpowdercoating@yahoo.com
Thank you for your interest.